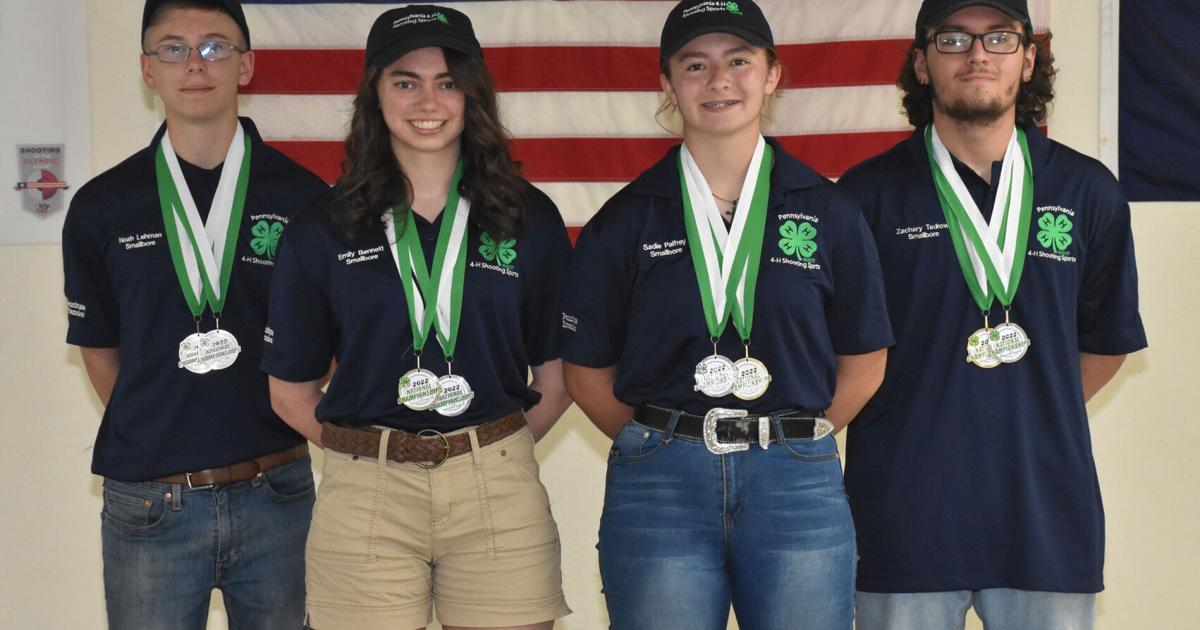 GRAND ISLAND, Neb. – The Somerset County 4-H Club Shooting Team won first place in the three-position small-bore rifle event at the National 4-H Shooting Championships a few weeks ago on Grand Island , Nebraska.
Emily Bennett, Noah Lehman, Sadie Palfrey, and Zach Tedrow not only took first place with 1,602 points, but also took second place for small-bore silhouette and small-bore overall score.
In three-position shooting, all four finished in the top nine as Lehman (fourth, 539), Bennett (fifth, 533), Tedrow (sixth, 530) and Palfrey (ninth, 514) achieved high scores.
Bennett, the state runner-up in this year's school competition, finished in third place and Tedrow took sixth in the small-bore standings. Bennett placed second in the individual steel silhouette event. Palfrey finished fourth in the civilian rapid fire program.
All four shooters were chosen to represent the Pennsylvania 4-H rifle team after winning the state shooting championship in Shelocta in April.
Bennett is a rising senior at Bishop Carroll Catholic High School and Lehman will be a junior this fall at Conemaugh Township-area high school. Palfrey is a home-schooled student from Indiana. Tedrow is a 2022 graduate of North Star.
"It's a real accomplishment for them," said 4-H assistant coach Barry Rininger.
This is the third straight year that Somerset County 4-H has won the state championship. Rininger and coach Mike Knapp pitted their team against 79 individual shooters from 20 states, testing their skills on targets 50 yards away using single-shot Olympic-style target rifles with open sights.
The quartet excelled in the three-position rifle class (standing, kneeling, and prone) in 100-degree heat and 40 mph winds.
"We are especially proud of our team for winning again, repeating in this domestic competition is truly remarkable," Rininger said. "Our kids stayed focused and didn't let the tough conditions, large crowds and fierce competition rattle them. Adversity is part of this game and Emily, Sadie, Noah and Zach were confident and determined to bring home the gold, and they did just that.
The Grand Island Final drew 700 young men and women from 39 states who competed in various disciplines from June 26 to July 1.
Teams also competed in archery, muzzleloader, shotgun, and air rifle/pistol events.
All four snipers are also members of the Jerome Junior Rifle Team (JJRT), which competes in a number of junior national and Olympic competitions, in addition to varsity matches in Ohio, West Virginia, Virginia and Michigan. Rininger leads this team. Both the Junior Shooting Team and the Somerset County 4-H Team are made up of shooters between the ages of 14 and 19, and sometimes younger. They practice together and are based at the indoor and outdoor facilities of the Jerome Sportsmen's Association.
The Junior Rifle Team will host its first outdoor three-position, 50-yard, .22-caliber small-bore rifle competition July 29-31. Dubbed the Jerome Sportsmen's Association (JSA) Open, the event will also feature an indoor .177 caliber air rifle match.
"It's open to any shooter who wants to come, and we've sanctioned it through the NRA (National Rifle Association)," Rininger said. "Their scores there will be recorded across the country, so college coaches can see how they fared in a game."
Shooters of all ages are welcome, but must bring their own .22 or .177 caliber rifles and ammunition.
Prizes will be awarded to the top three shooters in the men's and women's divisions in each category, and a special BB gun competition for 8-13 year olds will take place on Sunday afternoon.
All interested coaches, teams and individuals are encouraged to register for $25 per shooter by Monday by contacting Barry Rininger at 814-233-6000 or emailing him at bsrbuildingsystems@gmail.com, but those who s 'registered in person during the event will not be returned. a way.
For more information on BB guns, contact Nikki Tedrow at 814-701-6427 or jeromejrrifle@gmail.com.
There will be a chicken and burger barbecue, and other food and beverages will be available for sale during the competition, with proceeds going to the Jerome Sports Association.
"The club is quite generous with us," Rininger said. "We try to do everything we can for them because they allow us to use the range free of charge, so we try to pay it forward and help them."
John Rucosky is a photographer for The Tribune-Democrat. He can be reached at 814-532-5055. Follow him on Twitter @JohnRucosky.