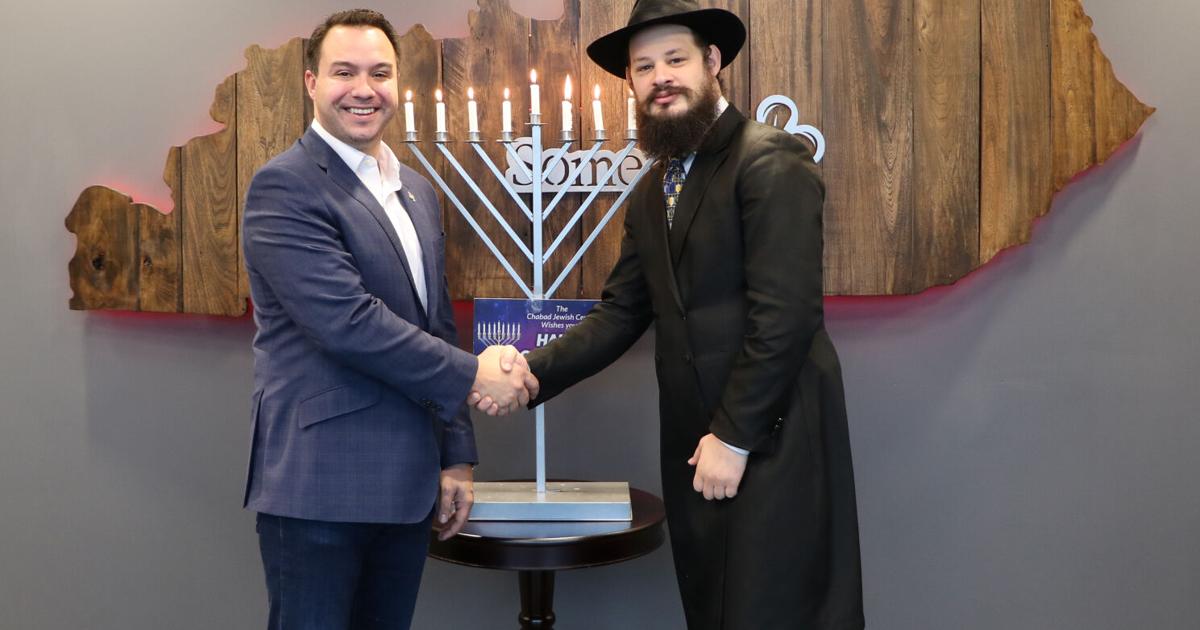 What better way to celebrate the "Festival of Lights" than by bringing it to the headquarters of the "Light Up Somerset" movement.
On Monday, Rabbi Shlomo Litvin of the Chabad of the Bluegrass in Lexington visited the office of Somerset Mayor Alan Keck to light a menorah on the eighth and final day of Chanukah.
Also known as the "Festival of Lights," Hanukkah celebrates a time when God's miracle showed light to the Jewish people during one of its darkest chapters.
According to Chabad.org, in the 2nd century BC, the Seleucid (Greek) Empire attempted to force the people of Israel to accept Greek culture. A small group of ill-armed Jews led by Judah the Maccabees defeated the mighty army sent against them and reclaimed the Holy Temple in Jerusalem.
However, when the Jewish people went to light the temple menorah, they only had one jug (or jug) of oil which should have lasted for a day.
Miraculously, this one-day supply lasted for eight days until a new oil could be prepared.
This is a hugely simplified version of the story, but as Rabbi Litvin explained, the purpose of lighting the menorah for Chanukah is to represent the light that every person can become.
On the eighth day of Hanukkah, when the eight candles are lit, the menorah has reached its full potential and represents a tool in full use.
"But that's not enough," Litvin said. "It's just a tool. Hanukkah encourages us on this eighth day to bring this to life in the world. Continue to go out to bring this light to others.
Litvin said this message is similar to the values ​​all Kentuckians hold.
"If you stand up for what is right, if you stand up for freedom, if you stand up for the light, God will take care of the rest," he said. "If you stand in the breach, God will stand with you. I think this message resonates strongly in Kentucky. These values ​​are the Kentucky values. This idea that "I will stand up for my beliefs, I will fight for my rights, I will fight for the rights of others, and that I have faith that God is with me. Here in Pulaski County and Somerset, that is exactly what Mayor Keck is doing.
For his part, Keck reflected on how his Light Up Somerset initiative – the plan that not only brings literal lights to the city center but launched the city center on a path of business revitalization – aligns with the Hanukkah message.
"It is an honor and a joy to celebrate Hanukkah with you," Keck told the rabbi.
Litvin gave an example of how a person can be a light to others. "Judaism speaks of two kinds of righteous: a righteous with a fur coat and a righteous with fire. When you're cold, there are two ways to help you enjoy it. You can put on a coat and you will be warm, but no one else has changed. Or, you can start a fire and warm everyone around you. The idea that we want to be the righteous man with the fire that both warms and warms his community.