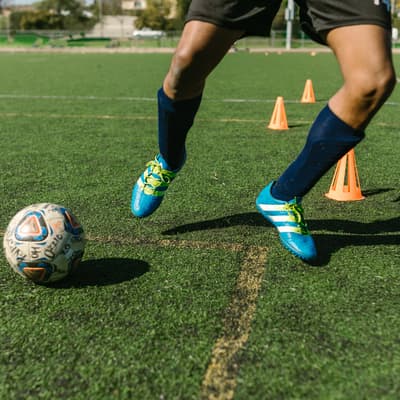 "I can refer to an old program I have in front of me, which was actually published on November 19, 1937, where the notes say 'we believe it is a fact that Radstock Football Club was established in 1835", which is before Sheffield FC and before several others around the world. We have no concrete evidence of this; the first real evidence of games being played dates back to 1880 and something. But it is a program with notes and people who were still alive when they were written from 1835.
So it would be nice to find evidence of playing this early, but our records show the club was actually playing under the name Radstock Sports Association in the early 1880s.
"We have match reports against Shepton Mallet in a match in 1883, which Shepton won from a hotly contested number of corners. The match actually ended with two goals apiece and then it was a four-two corners count in favor of Shepton Mallet, which was apparently part of Football Association rules at the time. Of course at that time we didn't have one set of rules, I mean there was one set of rules for the north and one set for the south, and the Football Association in London was desperately trying to put it all together. But those were the first games and we certainly played a fairly regular list of matches back then.
The fitting secretaries were very important because although there were no league teams, match fixing and financial commitments were made.
"There is a very good piece of information in one of the press articles from Radstock Town visiting Bradford-on-Avon that they had agreed to compensate Radstock if the crowd did not reach a certain level.
"In 1889 the club changed their name to Radstock Wanderers and began playing Somerset League football in 1890/91. Then in 1895 they became Radstock Town and affiliated with Somerset FA. At the At the time the vice-chairman of the club was Charles Lewin, who of course became the first chairman of Somerset FA, and I think the youth team is still playing for the Lewin Cup So the story is a long one and fascinating in many ways.
As far as the club went through its ups and downs, it went bankrupt for a while in the early 1900s due to a lack of revenue indeed, and of course the mining industry was not as dynamic, shall we say, as it later became. Admittedly, the effects of Lord Carlingford and the Earl of Waldegrave, their demands on miners in terms of hours worked and remuneration granted meant that sport often took a back seat.
"So Radstock Town football club as such, and the football played at Radstock, was probably among the first played in the North Somerset area."
Next week, Dave will talk about Radstock's move to the current home, Southfields Recreation Ground.
If anyone has any information, photographs, old programmes, newspaper articles or medals relating to the history of Radstock Town Football Club then Dave would love to hear from you as he continues to compile the history of the club. Dave can be contacted at: [email protected]