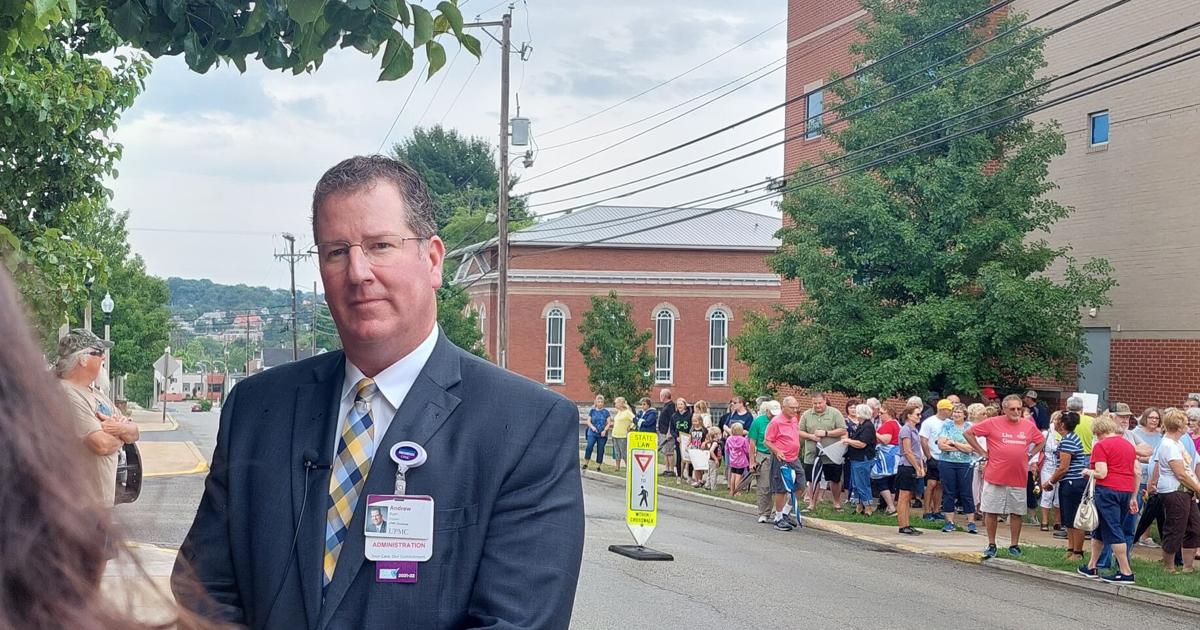 SOMERSET, Pa. — When Randy Ickes' battle with cancer started to feel like a losing battle this spring, the Jennerstown native turned to UPMC's In Touch Hospice House in Somerset.
For the past two months, Ickes said, he has been treated by hospice workers as part of their family.
"Everyone knows its reputation," Ickes said, describing the establishment as "caring and personal."
On Tuesday, Ickes was faced with the reality that he will soon have to stay elsewhere — and with health system officials who made the decision to close the 10-bed inpatient facility.
Ickes was among a crowd of more than 120 people who gathered outside UPMC Somerset to demand the owners of the hospital drop plans to close its affiliated hospice. Despite heavy rain at times, the group stood outside the hospital gates for an hour, holding umbrellas and signs reading "Save Hospice House".
They had the opportunity to voice their concerns to UPMC Somerset President Andrew Rush.
"When my aunt was dying… she had angels on earth by her side," Josette Mickey, from Berlin, told her, referring to staff at the center. "They stayed with her, held her hand and talked to her until the light came on."
"Where else can you get this kind of service?" she said before answering her own question. "You can't, around here."
Rush said there was no doubt about the level of care people had received at In Touch Hospice House over the years.
"Their inpatient services have been extraordinary," he said.
But demand for inpatient palliative care has declined in recent years, Rush said. Time and time again, when people are admitted to UPMC Somerset with serious medical conditions, they choose to stay at home when given the choice of palliative care services, he said.
"If they have the option…they usually want to be home with their loved ones," Rush said.
Many of the crowds protesting the upcoming August 1 shutdown questioned that, saying some don't have – or don't want – the option to stay at home.
Gary Marker, a 30-year-old hospice volunteer, was one of many to question whether the center's $23 billion parent company, UPMC, chose profit over people.
"You can't beat the service these people get here," the Rockwood man said. And the beds in the center, he added, are often full.
Rush said the overall decrease in demand for hospice services contributed to the decision. It is a reason why facilities such as In Touch Hospice House are closed, not just in Somerset but across the country, he said.
He estimated that UPMC Somerset had on average more than 150 to 200 patients receiving palliative care at any given time – almost all at home.
There is a growing demand for these specialized palliative and home care-type services – and UPMC is preparing to hire additional nurses and train existing ones to meet this demand, he said. he declares.
Rush said efforts are also being stepped up to educate Somerset County residents about these home services and to eliminate the misconception that hospice care is only available to those in their last days of life.
For people dealing with serious medical issues, including terminal cancer, palliative care might be the right choice for someone even if they still have a year to live, he said. .
UPMC is working with employees during the hospice closure to place them in other UPMC positions, the company said.
The building itself, built through a 2009 Wheeler family donation at 1474 N. Center Ave., will continue to operate as an office for hospice and home health administrators while plans aren't finalized. still final for the future – vacant portion of the building, UPMC officials said.