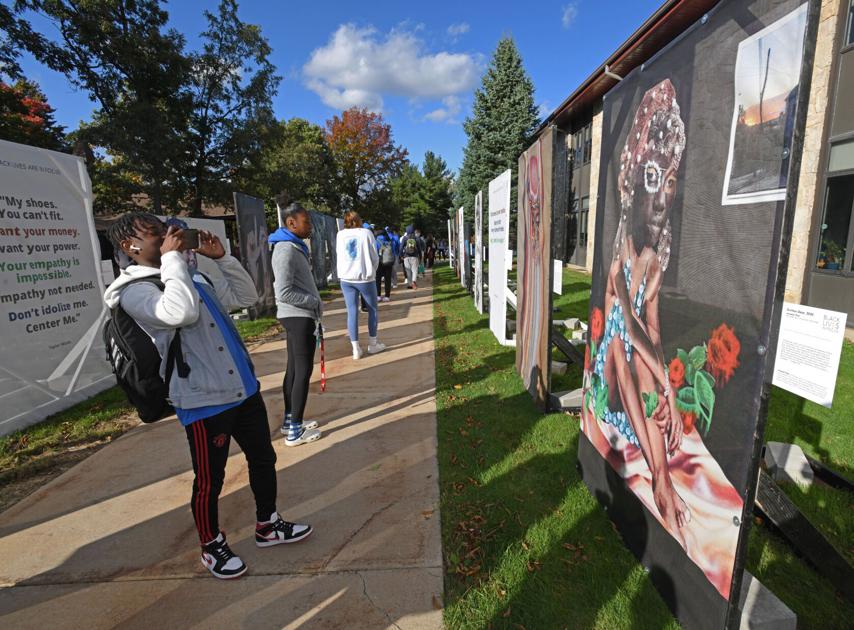 THEaurel: Mark Addleman, 36, of Somerset, is the new chairman of the board of directors of the Johnstown Symphony Orchestra, the organization said. Addleman brings a strong and diverse background as Vice President of Somerset Trust Co. and also a musician with the Erie Philharmonic. Addleman, a former player with the Johnstown Youth Symphony Orchestra, is the Associate Principal Horn of the Erie Orchestra. "I will use my unique experiences in the art and business world to lead this entire team, the orchestra members, our staff, our executive director, our musical director and my fellow directors," said Addleman. Congratulations, Marc.
Laurel: The University of Pittsburgh at Johnstown hosted a powerful outdoor exhibit – "Black Lives in Focus" – on the Richland Township campus. The multimedia display includes 31 pieces – including photos, drawings and quotes – and has moved from campus to campus through the Pitt system. "I hope that more and more similar exhibits will be presented to our students," chemistry professor Manisha Nigam told reporter Josh Byers. Student Alexis Johnson said: "I think it's really good that they're trying to put more emphasis on black voices." We agree.
Barb: Austin Michael Yannella, of Hastings, was convicted on Monday of drawing a gun when confronted with Patton Police Chief Travis Schilling during a traffic stop in July. Yannella, 24, was convicted of two counts of aggravated assault, carrying a firearm without a license, recklessly endangering another person, common assault and resisting arrest. Schilling testified that he used a stun gun on Yannella after the man was arrested, then brandished a .22 caliber revolver and told the officer he was going to have to kill him. Schilling said he was diagnosed with post-traumatic stress disorder following the encounter. A witness to the incident said: "I was nervous, not for my safety, but for the officer's safety. "
Laurel: Students, staff and administrators from the Westmont Hilltop School District gathered on Thursday for a groundbreaking shovel to kick off a renovation project at Price Field, next to the elementary school. The new Price Field will have lights for night games. "I always like to play under the lights," said Morgan Faight, a member of the soccer team. The $ 7.5 million project will also include a new track, grandstand and scoreboard. On the same day, the Westmont School Board approved the purchase of a $ 40,000 high-tech lighting package for the stadium, as well as a synthetic track surface.
Laurel: The viaduct that connects downtown Johnstown to the Prospect district was renamed in honor of Reverend Andrew W. Tilly, pastor of Pleasant Hill Baptist Church for 47 years. "It is such a heartwarming thing to happen because he was such a deserving person," Deaconess Patricia Walker said in a ceremony Oct. 15. Tilly was a World War II veteran and faculty member at the University of Pittsburgh at Johnstown. He passed away in July 2020. Deacon Jeffrey Wilson credited State Senator Wayne Langerholc, Township of R-Richland with helping rename the overpass.
Laurel: Somerset County awarded a contract in the amount of $ 82,965 to Maust Excavating for a 0.4 mile segment of a trail around Lake Somerset. The trail is funded and completed in sections, with the last piece to be built in the spring, said Gerald Walker, Somerset County President. Commissioner Colleen Dawson said the next phase will extend the half-mile trail along Sechler Road to a parking lot near Wood Duck Road, as our David Hurst reported. The work is supported by a grant of $ 30,000 from the Southern Alleghenies Planning and Development Commission and $ 55,000 from Somerset Inc.
Laurel: An anonymous donor helped the Windber Rambler Lettermen's Club reach their fundraising goal of $ 80,000 for 2021 with a donation of $ 25,000. The club offers scholarships to student-athletes in the Windber area, through a fund with the Community Foundation for the Alleghenies. The club's army and navy veterans fundraise for the Dec. 11 football competition between the two military academies urging individuals to donate in honor of the military or navy .
Barb: A man was arrested and charged with raping a woman on a Philadelphia-area train on October 13. After the alleged attack, public transport officials and police said other passengers were present and did nothing to stop the attack, with some even recording the incident on their cell phones, as reported. see on the security video. However, Delaware County District Attorney Jack Stollsteimer said passengers were getting on and off the train and many probably weren't aware of what was going on. instead of calling the police 'is wrong. One person, who filmed part of the incident, gave the video to police as evidence.