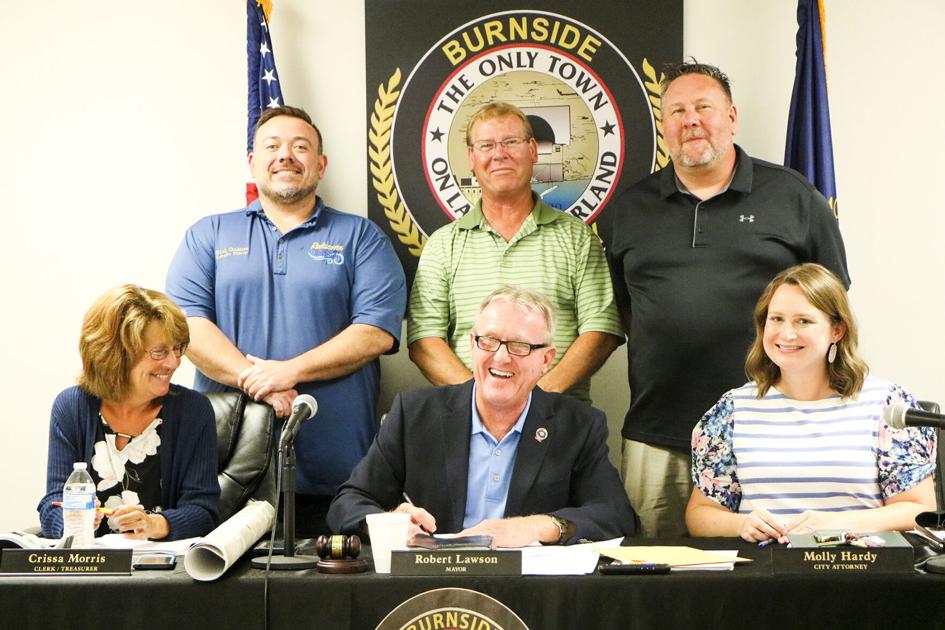 City council business is seldom about emotion, but the August Burnside City Council meeting showed the human side of small town government.
When Burnside Mayor Robert Lawson pulled out a manila envelope from the stack of documents in front of him and said he had tried to keep the news a secret, there was a palpable sense of excitement and pride that emanated from him. And when he tried to say the name of the person this happy secret would honor, he had to stop and pull himself together, his eyes teary and his voice broken.
The "secret" inside the envelope is actually something that has been talked about a lot, and it is the intended walking trail for which the town of Burnside is working to gain US Army Corps approval. of Engineers.
"Guess what I have in my hand? I have the lease of the Corps, "Lawson said, drawing cheers and applause from others in the boardroom. "Our surveyor and municipal engineer also looked at it. Everyone is okay with that. I asked (city engineer) Neal (shoemaker) to do a new cost estimate … because we have $ 206,000 in grants and I told Neal that based on the sidewalk in face and water project, I guess that's probably three times what it was, but tip I'm happy to report, here's where our city engineer saves us money: the total estimate of the contract is now (over $ 230,000) and you look at "engineering and inspections", it's zero. So Neal doesn't charge us anything.
That last line also drew applause, and Lawson then signed the Corps lease in full view, the culmination of months of hard work by everyone involved in the town of Burnside.
The trail will start at the north end of West Lakeshore Drive "just past where (Kentucky Utilities) crosses the lake to the other side at Cumberland Heights," as Lawson said right after the last house at the north end of the road, before the start of the guardrail. It will run along West Lakeshore, past Burnside Marina, ending just before the road reconnects further south with US 27, in the roadside park.
However, this is the first phase of a larger project, and plans eventually include continuing the trails to Burnside Island, located just south of where the trail will initially end.
However, the lease was only part of the surprise. Lawson said on the first day he took office as mayor in August 2017, he mentioned the creation of a walking trail (plans would later include a bike path aspect). "But that was not my vision," he added, before starting to choke on it.
Instead, it was something the late Burnside matriarch Vivian Sullivan had long wanted for her community. Sullivan, who died in 2014, was a friend of Lawson and Burnside as a whole, serving on the city's planning and zoning committee, the Burnside Women's Civic Club and many other community functions. Lawson called her a "true Burnside pioneer."
He added, "This is what Vivian wanted years ago. It was her dream, to have a walking trail along this lake. I'm not going to take the 'hero' (status) here. … I'm sorry I got emotional, but you just don't know what kind of neighbor Vivian was.
As such, the trail will be known as the Vivian Sullivan Memorial Trail – another line of inspiring applause in the evening.
While the city has been planning this trail for a long time now, it is stuck in a sort of vacuum with the Corps, which is involved due to the trail's proximity to the shores of Cumberland Lake. At the last council meeting, Lawson informed councilors that the project had moved from the "real estate" stage of the approval process to the "legal" stage, reviewing the Corps of Engineers lease.
"When you start a project with the Corps of Engineers… they're full of rules and regulations, but you go in and you play the game," Shoemaker said. "We had a very good team of people. We were just persistent. Then Frank (Crabtree Jr., director of tourism) ends up taking care of it. So that's what it takes.
"Your regulatory work is done. Once you get approval from the Corps of Engineers you won't have a lot of problems… but to get that approval it takes forever for the Corps to facilitate and go through real estate, "he said. he adds. "When you quote the Corps of Engineers, you think it's just one person. But when your set of shots arrives in Nashville (and the Corps offices), it's broadcast between 20 different people. And these people don't talk to each other. … We have to do all of this through channels, and it takes forever. So once you get that lease that's a major achievement.
Lawson said they will make sections of the trail available to dedicate in memory to someone who can be purchased for donations and will stay that way for the duration of the trail.
Once the groundwork is laid on the project, it can take around a year to complete, Lawson estimated.
"We want to showcase the West Lakeshore Drive. The citizens really want it, the whole city wants it, "he said in a previous interview. "It's going to be essential for walkers and people who want to go out. People can take out their strollers or ride a bicycle. Outdoor recreation is an important thing and it will only add to the many things we have at Burnside. "
In other matters of Burnside City Council:
• The Town of Burnside is also ready to begin receiving donations and sponsorships for the Storybook Reading Trail at Cole Park. A dedication is scheduled for September 4, as part of the "Thunder Over the Island" Labor Day weekend events in Burnside.
• Auditor Barry Daulton was on hand to offer an "unmodified opinion", or essentially a clear, high-level report for the city's last audit.
• Lawson said the city received its first check for ARPA COVID-19 relief funds in the amount of $ 109,151.22. They will likely receive another check for the same amount over the next six months.
• Frank Jackson, President of Burnside Planning & Zoning, presented a recommendation for a zoning change from R-1 to R-2 for 720 East Lakeshore Drive. Jackson said there was a public meeting and there was no opposition. The council didn't offer any either.