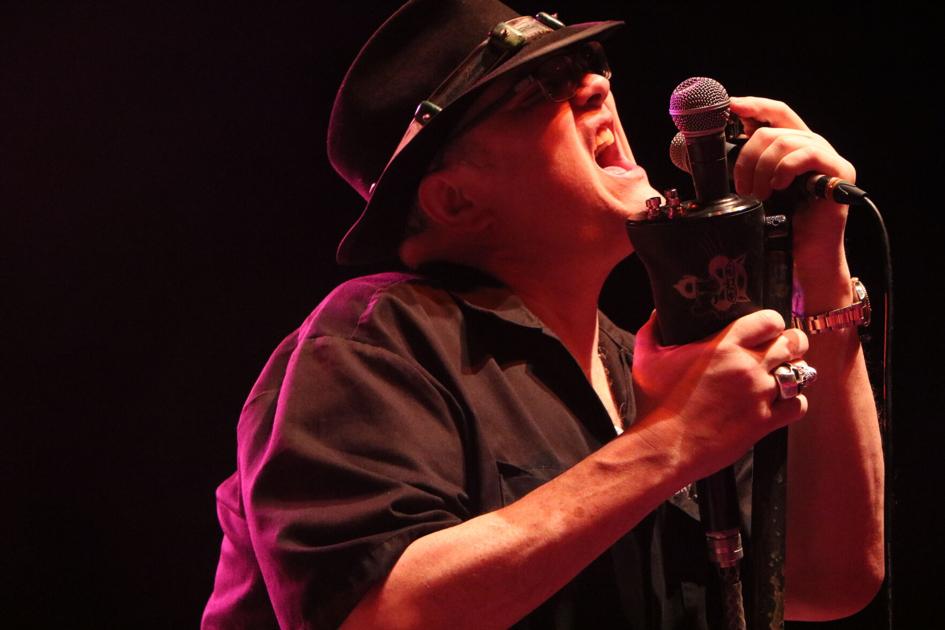 I didn't meet the Executive Director of the Master Musicians Festival, Tiffany Finley, before Blues Traveler's closing night on Saturday.
It's a little unusual. Normally I see her several times a day over the two day Somerset Outdoor Music Festival, running around and making sure everything is copacific, and I will stop to ask her for a quote for our first MMF article from the weekend. Of course, this time around we don't have a Sunday edition, so I could wait until Monday to catch up with her on how things turned out.
But at the end of a record breaking Saturday, with a cheerful and energetic crowd behind us and Blues Traveler performing their most familiar hit "Run-Around" in front of us, I found her in front of the main stage at Festival Field.
"The festival is great this year! I said to him, screaming over the swirling sound mass around us.
Finley just smiled and clapped his hands. "We did it!"
Yes, yes you did. After the 2019 MMF was cut short by a sudden, violent storm and the 2020s… well, you know… getting a full festival under the proverbial belt was an accomplishment.
But this party? It was special.
Participation confirmed this. Paid attendance set a new milestone, beating the previous record by a good stretch; Finley said 4,000 people showed up on Friday night and 6,500 for the one-day event on Saturday. By comparison, the busy previous year – 2013, starring Willie Nelson – only saw 4,500 people come on Saturday.
"I think (the high attendance was due to the fact that) people were ready to get back to normal after COVID, and probably Blues Traveler was a big factor as well," Finley said. "Just the line-up in general. So many local and regional acts are becoming so popular in Kentucky that people want to go out to see them.
From my perspective, Blues Traveler is a big draw. I'm not someone who knows a lot about who's popular in today's music world, especially the American kingdom where MMF derives a lot from their actions, but if you were a big one on MTV in the '80s or' 90s, I know who you are, and Blues Traveler fits that bill. I associate their music with my high school days, and everyone of a certain age understands the power of nostalgia well, so speaking for me, it was cooler than usual to be in front of the stage on the train. to take pictures of a thin John Popper. work this harmonica like nobody's business. Remember the video for "Run-Around" and the "Wizard of Oz" theme with maniacal pixie Dorothy and her pals showing up at the club? Well, I felt like I saw the wizard in the Emerald City.
What drives my musical engine are genres like funk, soul and R&B, and this year's MMF had some great examples of that. Robert Randolph may have been my all-time favorite headliner for MMF, but Friday night Bee Taylor brought some of that dirty, low sound, and Devon Gilfillian kept the vibe going on Saturday, making two of my favorite performances in my About 15 Years Covering Festival for the Commonwealth Journal.
Bee Taylor (not to be confused with the character "Andy Griffith") is not from Pulaski County, but she has been somewhat adopted as a local favorite, having made numerous appearances in the area, including previously at MMF. Believe me, she loves fans in this area as much as they love her for her smart writing, energetic performances, and soulful sound.
"I tell you what, Somerset is one of the most amazing, unique and diverse places where there are still people who love each other and people who want to be together, and it's just an honor to be here in Somerset to MMF, "Taylor said in his honey-like Southern Fry stamp. "I feel like family. They made me feel like family. And you can't buy this. You can't find this in most places in the world. I feel lucky and blessed.
Taylor's philosophy is to give audiences "every ounce of soul you have" and fellow Nashville artist Gilfillian did the same on Saturday night, and again by joining Blues Traveler on stage to sing Bob Marley's favorite. , "No Woman, No Cry." (Blues Traveler also had friends from the Kentucky band Magnolia Boulevard who came over and jammed as well). The same goes for another local talent who got shot on the MMF scene.
Maddy Hopson won the last McNeil Music Center audition to give a young singing student the opportunity to perform a song on Friday night. Hopson would have continued in 2020 if the festival hadn't been canceled, but returned this year to speed things up with an exceptional rendition of the classic "I Put a Spell on You", accompanied by guitarist Kevin Dalton.
"My arms and legs were shaking all the time," Hopkins said after his performance. "It's super fun. My friends were in front (of the crowd), and that was really cool. … (This song) is my reference.
Hopson performed just before Friday night's bluegrassy headliner The Wooks, which closed the night with a special tribute to John Prine, MMF alumnus and country folk music legend. That Friday night was a particularly memorable experience, as the crowd collectively seemed to want the rain and lightning to stay away so that the night could end in the right way.
"I think Bee Taylor surprised everyone on Friday night," Finley said. "I really like that a lot of fans were there to see The Wooks but were surprised (by Taylor).
"It was really special," she added of the tribute to John Prine. "I don't think I've seen a crowd stay this late on a Friday night before. The next day several people told me how special it was.
As it all happened on top of the hill in "Art Valley," Young Mary Records' stage was bigger and better than ever – and garnering more attention for its roster of more promising artists.
In particular, for artist Morgan Wade's prime-time Saturday set, Finley said, "I've never seen the valley so full. It was almost like Friday night on the main stage. She also noted that the more intimate SomerSessions tent has attracted a lot of attention; "They had 500 people there for a few artists."
Music isn't all there is to MMF, of course. The original artwork by local artist Marko Coomer for the 2021 festival was auctioned for $ 2,300 to Jayson Henderson of Henderson Fuel, a first-time sponsor – "It was his first taste of MMF, and he loved it, "said Finley – as local musician (and Santa's replacement) Tommy Cate received the Lifetime Achievement Award.
"We thought it was particularly appropriate this year since our 'Master Musician' was John Popper (from Blues Traveler)," said Finley, referring to the fact that Cate and Popper are known to play the harmonica. "(Cate) was a sponsor, he was a volunteer, he was an artist, he was a fan. We just felt like he was a big supporter of MMF. Everyone knows he is a really good person and deserves this recognition.
In the VIP tent, people had the chance to buy and try out Horse Soldier Bourbon, one of this year's major MMF sponsors with the city of Somerset. Finley said people enjoyed the experience and believe reliving it in the future will be another benefit for potential sponsors.
Finley also highlighted fun activities for the kids, like a "concert" of self-made instruments and a refreshing "water fight" on a hot day.
"We love to involve the kids because we have to find a new generation to take over the festival," Finley said. "Having fun and making memories is what will make them want to get involved when they are older."
Of course, the threat of bad weather was on everyone's mind after 2019, but even though we all got a little wet on Saturday, it was nothing we couldn't live with. Even Mother Nature wanted to hear this year's line-up, apparently.
Finley was careful to thank all of MMF's sponsors and artists – and of course the hard-working MMF Board of Directors and all the volunteers – who make the event possible. When I was told 'We did it', it was 'us' she was talking about – the massive community effort it takes to put on an event like this that attracts so much positive attention. over Somerset and Pulaski County. When I was in high school listening to Blues Traveler on MTV, I never imagined that one day I would hear these same artists perform the same song right here in my hometown. MMF made this kind of dream come true – just like the people who bring the festival to life in the best and worst times.
"We all know last year we were in a pretty tough spot," Finley said. "Everyone rallied around us and supported us. As a result of that we had one of the best festivals we have ever had.
Hmmm. Dire Straits – now there's a great idea for next year's headliner …